Hot Topics
How To Get The Jessica Alba Look: Jessica Alba hairstyle, makeup, fashion
A how to guide on how to get the Jessica Alba look: her makeup, hairstyle, and fasion.
How To Get Jennifer Aniston's Makeup
Learn how to get Jennifer Aniston's makeup style: eyes, lips, and face.
How To Wear Blue and Lavender Eye Makeup Like Taylor Swift
Follow these tips for wearing blue and lavender eye makeup to make your eyes look glamorous.
Lucy Liu's Hairstyle: A Short Wavy Bob
Lucy Liu's hairstyle is a classic above-the-shoulders but below-the-chin Bob. The short hair length makes this style low maintenance and very feminine. Read on to learn how to achieve this look.
How To Get Ali Larter's Look, Hair, Style, and Makeup
Follow these easy steps (makeup and hair) on how to get Ali Larter's look and you too can look this good.
How To Get Kim Kardashian's Smile
In a recent interview, Kim Kardashian revealed her secret to maintaining that brilliant smile of hers. With the secret out, we are going to tell you how you can get a dazzling "Hollywood" smile like Kim Kardashian.
Photos Of Celebrities Without Makeup: Christina Applegate, Renee Zellweger, Drew Barrymore, and Britney Spears
Celebrities look just like any one of us away from the camera. Just view the video.
How To Get Camilla Belle's Frosty Makeup Look
We really love the frost-toned makeup look that Camilla Belle wore at the Whitney Museum Art Party in June 2009. If you want to know how to get the Camilla Belle frosty makeup look, just follow these quick and easy steps and you too can look this icy cool.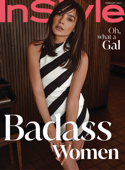 InStyle Magazine

InStyle Magazine,Treat yourself-celebrity style! InStyle invites you to meet celebrities at home to see how they express themselves in fashion, beauty, and lifestyle. Indulge yourself with each monthly issue, as you read about what Hollywood's wearing- and who's designing it, where to get beautiful and much more! Save 51%