From eyebrows to underarms, sexy legs to bikini line, this is your head-to-toe guide to do-it-yourself (DIY) hair removal methods. You've got the little black dress, the darling halter neck top, that sexy mini-skirt, and even your first-time-with-the-guy-knock-his-socks-off sexy lingerie
, but are you ready for the big strip? Do you know how to get "swimsuit smooth"? Are you aware of all of the different types of do-it-yourself hair removal methods out there and do you know which method is best for each part of your body? Probably not, but no need to worry, after all, hair removal isn't brain surgery. Best of all, DIY hair removal has never been easier. Let's investigate the methods and learn how easy it is to go beautifully bare. (Left: Josie Maran going beautifully bare)

There are five main methods to DIY hair removal: shaving, depilatories (hair removal creams), plucking (or tweezing), waxing, and epilation. All of these methods remove hair to the level of the skin and each result in temporary hair removal. For permanent hair removal you will need to see a specialist for electrolysis, laser, or intense pulsed light (IPL) treatment; or you can try a home electrolysis product like the Verseo ePen
which is clinically proven to remove hair permanently. Let's examine the five main methods to DIY hair removal.


Guide To Do-It-Yourself (DIY) Hair Removal Methods

1. Do-It-Yourself (DIY) Hair Removal Methods: Shaving
Facts: Shaving is the most common method of hair removal and it should not be looked down upon. In fact, professional leg models shave their legs every day in order to keep them smooth.

Best for: Shaving is best for legs. Don't do it anywhere else unless you are in a pinch. A five-o'clock shadow on underarms or a bikini line – girl please! And never, ever shave on your face.

Ouch Factor: None (unless you nick yourself). Be sure to use long, light strokes over large areas. Leave ankles and backs of knees, where the bone is close to the skin, for the end and go slowly.

Tips: First, dry body brush to lift skin flakes, then exfoliate and rinse to remove any dead skin and loose hairs. Next, smooth on a really luxurious shave gel or cream to soften the hair and hydrate the skin.
Recommended Products:
2. Do-It-Yourself (DIY) Hair Removal Methods: Depilatories
Facts: Depilatories are hair removal creams, lotions, or mousses that all work the same way - by dissolving the hair just below the skin's surface. With this method there isn't the stubbly re-growth that is associated with shaving.


Best for: Depilatories are best for legs, the bikini line, underarms and the face – but not your eyebrows! Long gone are the days of messy, smelly depilatory products. Those with bladeless razors or that are shower-offs are super easy. Modern hair removal creams also do more than just remove unwanted hair, most contain moisturizing agents and antioxidants.

Ouch Factor: Zero! This is the best hair removal method for those with low pain thresholds. However, be sure to test for skin sensitivity on your inner wrist before applying.

Tips: Have you been disappointed with creams leaving stray hairs behind? You haven't left the product on long enough. Experiment to get the right timing and you won't have to do it twice. Try Revitol's Hair Removal Cream for a smooth finish.
3. Do-It-Yourself (DIY) Hair Removal Methods: Plucking
Facts: Plucking, also known as tweezing, is basic but brilliant. Hairs are plucked, or pulled out, at the root with tweezers. Hair takes longer to grow back and when it does it has soft tips so it doesn't feel as bristly and rough as shaved hair.

Best for: Plucking (or tweezing) is best for eyebrows. It is also good for de-fuzzing chins, tidying up sparse bikini lines and removing those rogue hairs that pop-up in unusual places – belly, around nipples, wherever.

Ouch Factor: One quick tug and it's all over, so don't be a baby. You can make it easier by rubbing ice over the skin area before you pull to numb the pain.

Tips: Grip the hair close to the root and tug sharply. Pulling the hair at the tip will hurt! Also, expensive tweezers grip better and hurt less, so invest in a good pair. We recommend the Tweezerman Slant Tweezer ($22 skinstore.com)
, an Allure Magazine
"Best of Beauty Award Winner".


4. Do-It-Yourself (DIY) Hair Removal Methods: Waxing
Facts: If you are nervous about burning yourself choose a cold wax like GiGi Hair Removal Strips - Body
; choose a hot wax
such as GiGi All Purpose Honee Wax
if you're not. Smooth the wax over a small area of skin in the direction of hair growth, press on a removing cloth, tense the skin with one hand and pull off the cloth quickly away from the direction of hair growth with the other.


Best for: Waxing is best for eyebrows, top lip, legs and underarms depending on your pain tolerance. It is also best for bikini lines since it gives you a silky smooth finish.

Ouch Factor: Does it hurt? Yes, but it's bearable. You may not be as firm or as fast as a professional so DIY can hurt more. Our suggestion, be bold, be brave, but most of all be quick!

Tips:

Exfoliation

before waxing is the key to getting a better finish and to keep ingrown hair under control (try Revitol's Skin Exfoliator). Treat post-waxing areas with aloe or tea tree oil to cool and soothe.


5. Do-It-Yourself (DIY) Hair Removal Methods: Epilation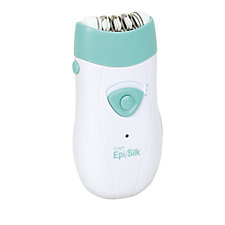 Facts: An epilator looks like a razor but actually pulls hairs out – it's kind of like multiple tweezing.

Best for: Epilation is best for legs. It lasts for about six weeks and hairs only need to be 0.5cm long, which means less time to wait than with waxing.

Ouch Factor: Let's be honest, the first time is painful. The pain lessens as you get used to it though. When using an epilator over soft areas, tensing the skin with your fingers will help to pull out the hair easier.

Tips: To allow rollers to grip without slipping, keep the hair grease free. Epilate an hour after showering and exfoliating and avoid using creamy shower gels. We recommend the Emjoi Epi Silk Rechargeable Hair Removal System above ($42.99 sallybeauty.com).
Knowing how to go beautifully bare should be a part of every woman's skill set. So knowing which DIY hair removal methods work best where is essential. This head-to-toe guide to do-it-yourself (DIY) hair removal methods explains the tools of the trade so you can get the silky smooth results that every woman wants without the expense of hiring a professional.
For more info on hair removal read How To Wax Your Bikini Line to get the sleekest, swimsuit smooth finish you've ever had.

If you like this article on home hair removal methods, please share it : )